Where the Namba Parks stand today, in Osaka, Japan, once stood Osaka's baseball stadium. Opened in 1950 with a capacity of 32,000 people, the stadium was home to the Nankai Hawks baseball team, but when the Hawks moved to Heiwadai Stadium in 1988, the stadium was sold to Fukuoka City. For the next two years, Osaka Stadium became the temporary home of the Kintetsu Buffaloes, who played about a dozen games there. The last official game was held on August 2, 1990.
One of the most interesting repurposing of the stadium happened in 1991. A trade group leased the venue and used it to showcase various model homes from several construction companies. The entire playing arena was transformed into a mini residential neighborhood with fake streets, street lights and with cars parked outside homes.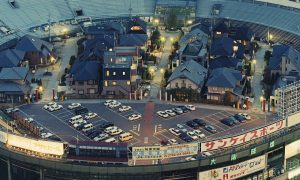 The expo lasted 8 years, and has since gained a lot of attention on social media incorrectly captioned as "a baseball stadium that was repurposed as a residential neighborhood."
If you're actively investing in real estate, or have dreams of building a portfolio reach out to us and join our MVP Investor Club where we help individuals assess, cultivate, and close the best deals on the market!