The Oregon Cliff House is a Baseball fan's dream vacation rental.
Perched on a cliff overlooking the beautiful waters of the McKenzie River, this gorgeous property offers more than 2,400 sq ft of elevated riverfront views from every room in the house, and grounds unlike any other.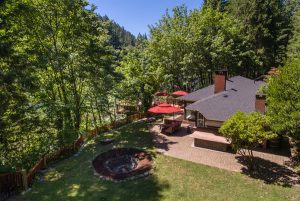 It sleeps 12 people total, inside. Six in the main house, which contains three bedrooms and two bathrooms and six more in the guest house, which has three more queen beds and another bathroom. In addition, there is also a camping area. 
The home is set right on the river with wading and fly-fishing access. The views are absolutely stunning from multiple decks high above the river, including the deck boasting a six-person hot tub. There is plenty of patio furniture to enjoy the views as well as a full standup heater for those colder nights.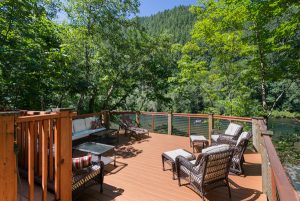 On top of all that, there's an incredible full-size whiffle ball stadium. Complete with a home run fence, backstop, dugouts, big league bases, a grass field with base cut outs, a pitcher's mound and even two impressive 30 ft foul posts. Check this out!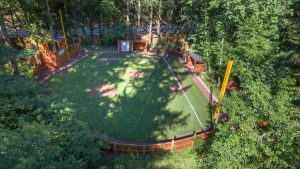 Whether you are planning your next family reunion, birthday celebration, or just a large get together, The Oregon Cliff House is the perfect spot. No matter the age, people will truly enjoy their stay.
Fielder's Choice Realty has been hitting home runs for our clients since 2006! 
Whether you're buying, selling, or investing – contact us today and let our team of all-stars go to work for you!