It's insured for more than ten times what Mickey Mantle made for playing baseball from 1951-1968.  Such is the current market for what is probably the second most recognizable baseball card ever made. This PSA 10 1952 Topps Mickey Mantle card is 1 of 3 in the world, and is owned by Denver resident, Marshall Fogel.
Fogel's card, among the earliest graded by PSA, had originated with the famous 1980's Massachusetts find made by Alan "Mr. Mint" Rosen, who purchased hundreds of high-grade 1952 Topps cards – even the original Topps case they were stored in– from a man in Quincy, MA in 1986. 
The going rate at the time was shocking–$2,000 to $3,000 for the best examples. At the time, few cards were worth that much. 
Fogel spent $121,000 for the Mantle card in 1996. It's safe to say that the investment has paid off. Just last year one of the six PSA 9 examples, a card owned by former NFL lineman and collector Evan Mathis, sold for $2.8 million. Fielder's Choice Realty knows a thing or two about good investments, we've helped dozens of people become successful real estate investors.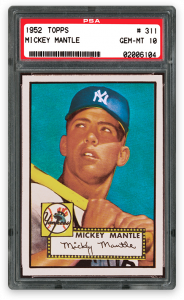 While the PSA 10 Mickey Mantle is the centerpiece of his collection, Fogel has hundreds of valuable artifacts from America's Pastime over the years. 
Over time, baseball has changed a lot, but ultimately it's still the same game on a summer's day: nine guys against one lonely batter. And for Marshall Fogel it's all about the love of the game.
At Fielder's Choice we're all about helping good people find a place they can truly call home. If you're buying, selling, investing or just want to learn more – contact us today!